Dzisiaj tak jak obiecałem będzie o pająkach, a żeby było zabawniej o pająkach nie budujących sieci łownych!
Jakie rodziny pająków nie używają sieci łownej?
RODZINA SALTICIDAE – skakuny, jumping spiders
RODZINA THOMISIDAE – ukośnikowate, crab spiders
RODZINA GNAPHOSIDAE – worczakowate, graund spiders
RODZINA LYCOSIDAE – pogońcowate, wolf Spiders
RODZINA PISAURIDAE – darownikowate nursery web spiders
Skupię się na ostatniej rodzinie Pisauridae - darownikowate. Postanowiłem się także skoncentrować do jednego gatunku o zasięgu ogólnoeuropejskim darownik przedziwny Pisaura mirabilis.

Spróbuję pisać tak aby nikogo nie zanudzić i postaram się opierać głównie na ciekawostkach.
Classification
Kingdom
Animalia (Animals)
Phylum
Arthropoda (Arthropods)
Class
Arachnida (Arachnids)
Infraorder
Araneomorphae (True Spiders)
1. Picture made by myself Canon EOS 550d with kit lens. Male
Pisaura mirabilis.
Pająk ten jest szeroko rozprzestrzeniony; występuje w całej
Europie

, północnej

Afryce

i wschodniej

Azji
Najczęściej można go spotkać na polanach i niskiej roślinności gdzie się wygrzewa jest to bowiem gatunek lubiący ciepło. Charakterystyczne dla rodziny Pisauridae jest także ich skłonność do życia w wilgotnym środowisku. Często można je spotkać wygrzewające się na słońcu z charakterystycznie ułożonymi nogami.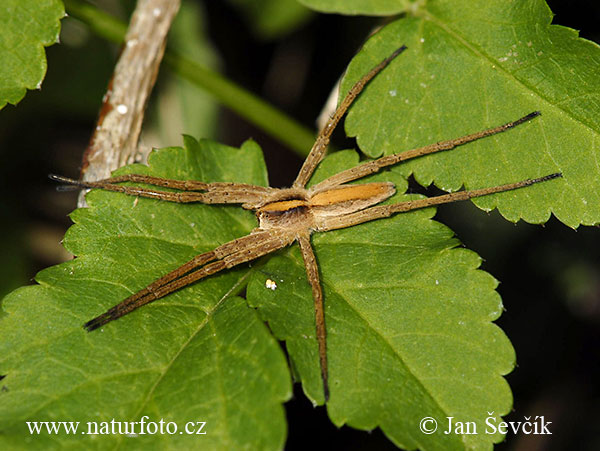 Darownik
Pisauria mirabilis
wygrzewający się na słońcu.
Samice osiągają do 13 mm długości, a samce – 11 mm. Samca od samicy możemy rozpoznać dzięki temu, że na 2 parze odnóży (nogogłaszczki - pedipalpy) posiada tak zwany bulbus jest to narząd kopulacyjny pająków. Jest to zgrubienie na ostatnim członie nogogłaszczek, oraz mniejszym rozmiarem ciała. Skoro wspomniałem o narządach kopulacyjnych pisząc to wcale nie miałem na myśli tego, że pająki posiadają układ rozrodczy w nodze :P. Gruczoły płciowe znajdują się u samca tak jak i u samicy na odwłoku. Samiec aby przenieść swój materiał genetyczny z otworu płciowego na aparat kopulacyjny wytwarza specjalną nić (rodzaj pajęczyny). Jest ona gruba i nie klei się, na taką pajęczynę samiec przekazuje swoje nasienie i z nici dopiero pobiera je na nogogłaszczki (za pomocą sił kapilarnych).
Zaloty u tej rodziny też są bardzo ciekawe, jak powszechnie wiadomo samiec u pająków często kończy po kopulacji jako obiad dla samicy. Samce Pisauridae wymyślili aby przynosić samicy podarunek - ofiarę owiniętą pajęczyną, w czasie w którym samica zajmuje się konsumpcją prezentu samiec aplikuje samicy swoje nasienie za pomocą nogogłaszczek.
Zaloty u darownika przedziwnego
Po zapłodnieniu samiec oddala się, a samica za jakiś czas złoży jaja.
Jaja są owinięte w kokon który zawsze towarzyszy samicy, trzyma go między szczękoczułkami. Czasem latem na polach widać pająki biegające z kokonami jedne należą do spokrewnionej rodziny pogońcowatych - Lycosidae tyle, że tam kokon jest przyczepiony do samicy w miejscu kądziąłków przędnych, a nie między szczękoczułkami (nie pobiera wtedy pokarmu). Kiedy młode są gotowe do wylęgu samica buduje z pajęczyny "namiot" gdzie składa kokon i czeka, aż młode się wyklują. Spędza w namiocie czas z młodymi, aż do ich pierwszej wylinki.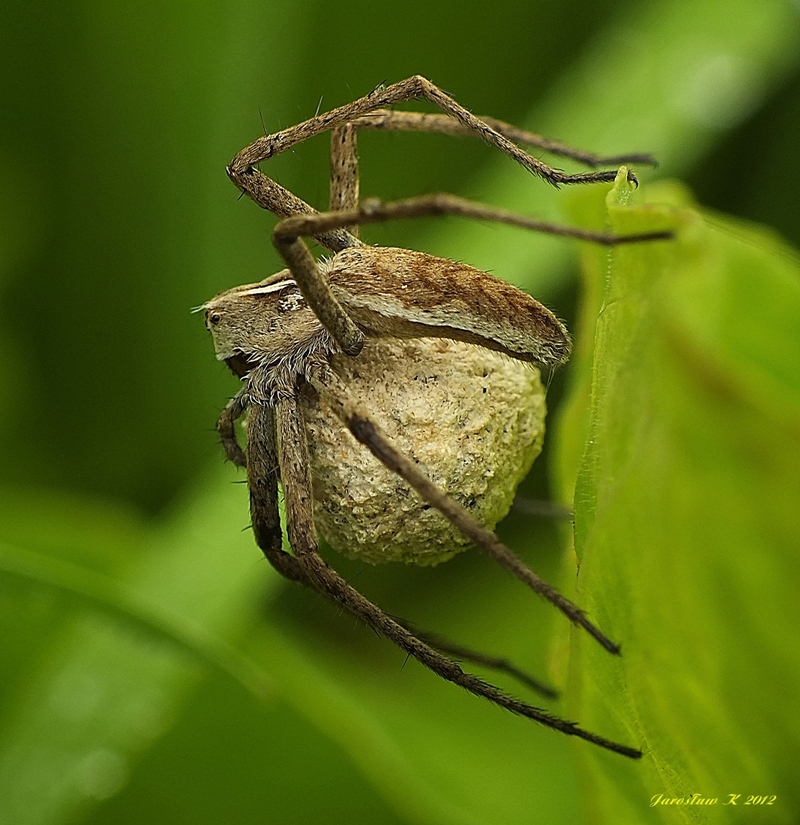 Kokon z jajami, trzymany przez samicę w szczękoczułkach.
Darownik przedziwny żywi się drobnymi bezkręgowcami. Jest bardzo szybki, zwinny i silny, atakuje więc nawet ofiary które są od niego większe, pszczoły, pasikoniki, a nawet inne pająki. Jad jest silny i skuteczny jednak nie jest groźny dla człowieka, mimo wszystko najlepiej nie niepokoić go bez powodu, a on odwdzięczy się nam zmniejszaniem populacji irytujących nas owadów. W zależności od rachunków pająki są w stanie w ciągu jednego roku zjeść od 1 do 100kg owadów na hektar (zależy od gęstości występowania pająków).
Współcześnie nie są zagrożone wyginięciem, ale środowiska w których żyje podlegają gwałtownym zmianom. Mogącym mieć wpływ na ilość osobników tego gatunku na naszych terenach. Niebezpieczne dla niego jest też stosowanie pestycydów (środków owadobójczych) w szczególności, że wystarczy, iż zje owada podatnego na działanie pestycydów (magazynują się w organizmie). Do niedawna bardzo popularne wypalanie traw także wpływa na niszczenie fauny danego regionu. Miejmy nadzieję, że nie zabraknie pająków na naszych polach ponieważ wtedy możemy borykać się z innymi poważnymi problemami.
Liczę, że spodobał wam się artykuł i pozwolicie mi od czasu do czasu coś takiego tutaj zamieścić :)